Acevape Arjuna Mech Mod kit – a cute but controversial set
Well, now let's get down to more "graceful creations". Next in line is a product from Acevape, and it became a set, and also of an unpopular concept – this is a mechanical mod with a drip. Personally, the products of these relatively young conquerors of the vape market sympathize with me. Therefore, I will be pleased to introduce you to her.
Acevape Arjuna Mech Mod kit An

unpleasant moment for me was the fact that the release had already taken place, and the information was almost zero, as well as sane photos. I honestly waited a week and a half, but nothing has changed. You probably have to be content with little, I decided, and began to cook up this article. So much the worse for the manufacturer.
Dimensions: 89 x 27mm (only mod)
Weight: 135.5g Case
Material: copper
Power supply: 1 x 18650/1 x 120700/1 x 21700
Operating mode: POWER
Protection: no
Connector type: steel 510, hybrid
Color: while only black
Arjuna RDA
Case material: stainless steel
Atomizer type: RDA
Capacity: average
Diameter: 25mm
Height : 23mm without drip type
Connector: 510, pin gilded
Weight: 50g
Color: so far only black
Options (probable)
– Arjuna Mech Mod
– Arjuna RDA
– spare parts
– carrying bag
– adapter for batteries of a smaller size
– user manual
– warranty card The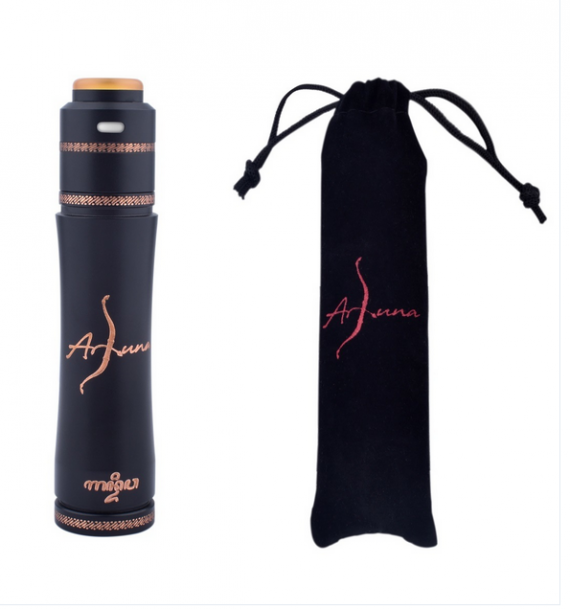 exterior of the set aroused conflicting feelings – it seems that there is not much decor, and the shape with its bends is nice, but there is not enough of a final chord that will put an end to individuality, recognition and attractiveness. In defense, it is worth adding that in general – as is customary to say – our hero looks quite tolerable, though it is offered only in one version – dark.