Augvape Zoom Pod – decent capacity and fast charging
It was the sixteenth day of our non-stop promotion, and I again prepared another new product for you. Rather, I was even a little late with her. By the way, as you can see, we do not have any special problems with the availability of reasons for meetings in the form of all kinds of AIOs. Rather, the situation is just the opposite – I can hardly find topics for conversation in other segments. There is a completely eloquent picture – the producer "abated", following the public taste …
We finish Saturday morning philosophy – we will return to our approaches.
Augvape Zoom Pod

Dimensions: 95.5 x 63 x 20mm
Weight: unknown
Case material: plastic
Power: built-in 1000mAh
Cartridge capacity: 3.2ml
Evaporator resistance:0.6Ω
Output power: unknown
Voltage range: 3.7V
Operating mode: POWER
Protection: against low / high resistance, from overheating, from short circuit, from overcharge / overdischarge
Connector type: magnetic
Screen / diagonal: no
Micro-USB port / charge: there is USB type C, charging current 2A
Color: see photo below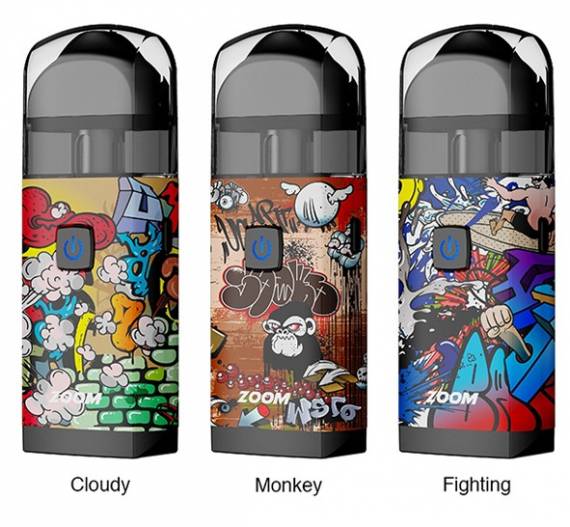 Options
– Zoom mod
– hygienic cap (pre-installed)
– replaceable cartridge (pre-installed)
– replaceable vaporizer 2pcs 0.6Ω (one pre-installed)
– spare origins
– USB type C cable
– user manual
– warranty card

Augvape developers decided to dilute their rigorous assortment with a motley novelty – they are entitled. As you can see, the decor is based on bright prints in the form of some graffiti, and all the proposed versions are decorated with such – do not wait for strict decisions.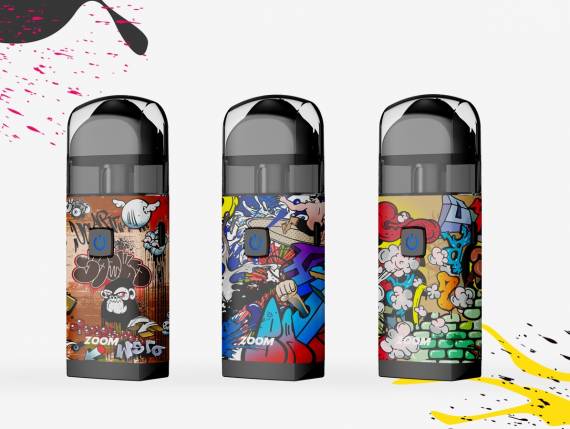 The dimensions are quite compact, but in the palm of such a thing this thing is unlikely to disappear completely. But in your pocket or purse easily.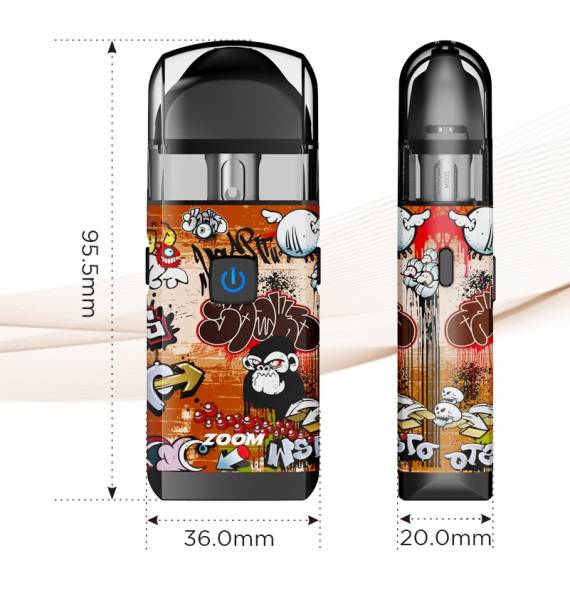 Replaceable cartridge boasts a decent capacity – it is more than a standard 2 milliliters more than one and a half times. It will refuel from below. Replaceable vaporizers of decent resistance, such can probably be used even when paired with regular nicotine. They are executed on the grid.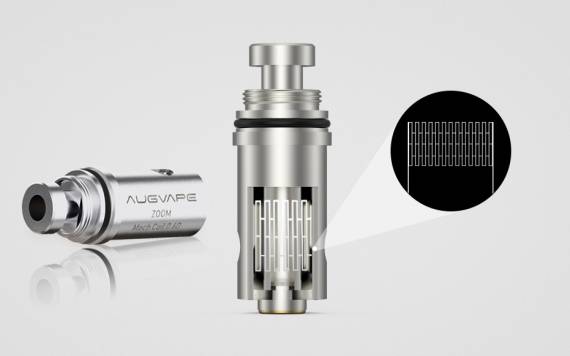 By the way, the latter can be replaced even with a "full tank", the main thing is not to the brim.

Airflow control is also provided.

Directly, the mod boasts an average battery capacity built-in battery. But perhaps the most interesting thing here is that the developers provided for a very quick charge of the latter – only half an hour.

By the way, the connector for this type C event and the bundled cable, of course, also. The "outlet" is located at the base – on the opposite side of the front panel.