V2 Cigs offers to customize your kit during order. Choose type and color of battery before checkout. Plenty of accessories and cartridges tastes – what else needed to be the best? In 2011-2014 V2 offer customers new exclusive e cigarette flavors – "Refreshing Cola", "Grape", "Cinnamon", and, of course discount on refills "buy more – get cheaper".
V2Cigs offer the most customizable order, good e cigarette accessories, various discounts depends on quantity, but orders shipping is slow
May 29, 2011 by BestECigarette2011.comproduct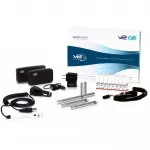 V2Cigs
V2Cigs review permalink
Our Rating : 4.5





V2 Cigs become the #1 most popular brand of electronic cigarette in the U.S.A. (according to Alexa rankings). In January, 2011 V2 Cigs ranked #4 compared to the competition. Their rank has steadily improved, reaching #3 in March and #2 in June. Just a month later, V2 cigs finally broke through to #1 after dropping a total of 6128 points!
V2 e cigarette Economy kit (has been discontinued)
1 x e-cig battery
10 x e-cig cartridges,
E-cig USB Charger
E-cig Wall Adaptor.
V2 e cigarette Standard kit ($59.95)
2 x e-cigarette battery (1 auto, 1 manual)
10 x e-cigarette cartridges
E-cigarette USB Charger
E-cigarette A/C Wall Adaptor
V2 e cigarette Traveller kit (has been discontinued)
2 x battery (your choice)
15 x cartridges, USB Charger
Wall Adaptor
Car Charger
Charging Case
V2 NoteBook-Cig.
V2 e cigarette Ultimate kit ($209.95)
3 x electronic cigarette battery (your choice)
25 x electronic cigarette cartridges
USB Charger
Wall Adaptor
Car Charger
Charging Case
1 V2 Metal Carry Case
1 V2 Lanyard
V2 Power-Cig
Available battery colors:
Classic White
Sleek Black
Stainless Steel
Metallic Blue
Pink
Length options:
V2 Shorty Cig (67 mm)
V2 Standard Cig (79 mm)
V2 Long Cig ( 110 mm)
V2 Battery – EX Series ( 100 mm) Designs as followed:

Brushed Steel
Carbon Fiber
Scarlet Metallic
Royale
Bloom
0.3
Click here to visit V2Cigs website
Click here to submit your e cigarette review.
---
V2Cigs V2Cigs V2Cigs Standart Kit SKU UPC Model Standart Kit
V2!
Dec 15, 2011 by Sharon Guthrie
Kit: Ultimate •
Favorite Flavor: Cherry
When someone once asked me why I smoked V2, I simply said that it was the taste. However, it is more than that now that I have tried other brands that are out there. I love the price and find that the customer service is one that has over the past several months provided me with tons of helpful information. However, what I like the most about V2 is that it looks real, yet is not, so I can smoke anywhere that I feel the need to smoke.
---
very good
Nov 10, 2011 by Kelly
Kit: Standart •
Favorite Flavor: Cherry
I am a huge fan of V2 Cigs, I did start out with a more expensive brand when I was new to electronic cigarettes, however, I have found that the quality of V2 plus the price puts these as the best e cigs that are out there. I recommend them to anyone that is wanting to stop smoking the regular cigarettes that they are addicted to without having to completely give this up. After all, for those that are like me, smoking is a great way to relax and simply unwind after a long day.
---
V2 Rocks!!
Nov 02, 2011 by Ben Haggin
Kit: Ultimate •
Favorite Flavor: Congress
After trying many different brands of electronic cigarettes out there, I did finally find one that is fitting into my life perfectly. So perfect in fact that I have not had a real cigarette in over a year. My favorite electronic cigarette is V2 Cigs and the reasons why are really endless. Great customer service is at the top of the list, as they work hard to correct any problem that I may have. However, it really boils down to the taste. I never feel as though I am missing out on the taste of the cigarette since V2 can give me that feeling. I would highly recommend that anyone try this in order to get off of the cigarettes for good.
---
Perfect
Jul 13, 2011 by Lela
Kit: Ultimate •
Favorite Flavor: Sahara
GREATEST thing ever! I love the V2 everything from its style its promance and their flavors! I bought mine electronic cigarette in stainless steel to me its so classy and I don't think I've seen it offered any where else at least as the same price as the other colors! For me with the V2 cigs as soon as a got it I started using it and it was that simple to stop smoking normal cigs! V2 is the best ecig!
---
Not bad
Jun 26, 2011 by Wayne
Kit: Ultimate •
Favorite Flavor: New cola
I too love the V2 flavors and agree that the carts don't last very long at all, maybe 120 puffs max. The price is good for the carts in the products description but they say 150-220 puffs, so in the long run with only getting 120 puffs the price falls in line with other companies. Its a good thing they have a warranty on the batteries because I have had 3 replaced in 2 months. I wish the battery and cart problems didn't exist because the flavors and vapor are great.
---
Great product! No Need for Analog Cigs!!
Jun 23, 2011 by Rhonda
Kit: Standart
I have to say I was hesitant to try the e-cig at all- I mean I've tried every way possible to quit smoking- patches, gum, lozenges, you name it… no luck. All it did was make me feel bad because I was a slave to these damned cigarettes! Well, fast forward 2 weeks after trying vaping, not one cigarette! Not even one! Not even an urge! I'm usually so crabby when I quit smoking no one wants to be around me! Not this time… I feel amazing, great amount of energy, and feeling like I can really do this! As far as products go, the V2 is the absolute best- great vapor (I like the manual personally), tastes just like a Marlboro (Red cartridge), and I'm telling everyone I know to get one! Amazing. Just amazing! Thank you, V2!
---
best company
I did alot of research before deciding to go with V2 and found it to be the best company. It's 2 piece design makes a tremendous difference. Lots of vapor and consistent from start to finish. With V2 I get everything I loved about smoking. I especially like that I can do it in my home, car , movie theater, dinner etc – There is no smell at all to this product!!
---
Good
Jun 12, 2011 by Laura
Kit: Standart •
Favorite Flavor: Coffee
The only issue I am having is that I noticed that the charger was not lighting up green, even after multiple hours of charging. I emailed customer service and got an immediate response that this is a firmware issue and that I might have to reset the battery, but that my device is not defective. I won't know that for sure until I see how long the battery lasts between charges, but I'm fine with the answer. I had a friend who recently ordered an e-cig from another brand and I like what I've gotten from V2 a lot better. I am interested in trying more flavors as well.
---
Too long shipping
Jun 11, 2011 by Gary
Kit: Ultimate •
Favorite Flavor: Cherry
Everything they advertise about there products are true. The products met ever one of my expectations or higher. The only problem is getting the product from V-2. In a world where a long delivery time is one week, they seem to feel 3 to 4 weeks is perfectly acceptable.
---
Cartridges not last long
Jun 05, 2011 by Eric
Kit: Travel
They all say their cartridges last as long as 1-2 packs of cigs but its just not true. If you decide to keep your kit I suggest you get your cartridges from SmokeTip. They are all about the same but smoketip is cheaper than V2
---
Good customer support!
Jun 05, 2011 by Lisa
Kit: Standart •
Favorite Flavor: Chocolate
I must say these E cigs have been a miracle for me. Started on them May 3rd and have not had a real cigarette since. This has been a very easy transition for me. The V2 customer service has been great. I've placed 3 separate orders & all have been delivered within a few days. E-mailed about defective battery, received a new one in a few days also. I cannot tell you how happy I am, and proud that I've been able to do this. It has been totally painless. I smoked a pack a day for 37 years.
---
Love it!
Jun 05, 2011 by Lani Kai
Kit: Travel starter kit •
Favorite Flavor: All
Trust me I did extensive research on ecigs & V2 is the BEST for quality & price! I'm a hardcore smoker and other brands I tried wasn't satisfying enough. V2 has great tobacco flavors, produces the best vapor & throat hit! SO HAPPY I FINALLY FOUND ONE I LOVE! Finally I am able to last without a real cigarette! FYI – I highly recommend the manual batteries & travel starter kit. Good luck to you!
---
Recommended!
Jun 04, 2011 by Jeff
Favorite Flavor: Sahara
In my opinion and experience V2 is exceptional. I have never had any shipping or quality issues and have placed numerous orders. I researched a lot of e-cigs before deciding on V2 and so far am happier than expected. All the flavors I have tried (red, sahara, menthol, and peppermint) have been great, and V2's selection of accessories is second to none. My original starter kit arrived back in March of this year and since that time I have not had a cigarette. It is really cool to feel like I am still smoking but actually not ingesting all the noxious chemicals that smoke creates. I got 1 manual battery and 1 automatic in my starter kit and love both. I switch back and forth between the two. Their customer service is also very helpful seem to go the extra mile to satisfy. I would warn people that V2's 18mg cartridges are pretty strong. I was a Full Flavor smoker and the 12mg suit me just fine. I definitely recommend V2 to any one thinking of purchasing an e-cig.
---
Satisfied
This is the first E-Cig I have tried because I used this site and it had a good combination of start up price and great cartridge prices. Overall I am very happy with the one V2 Battery I have and I could definitely see myself just smoking this instead of cigarettes… If I had more than one battery. The standard battery with a cartridge on it will last about a half a day before it needs to be recharged. The length is the length of a 100′s cigarette. They have a real long one that would probably last all day. I bought a pack that came with everything for around 50. 3 batteries of your choice and cartridges to get you started. + a battery that hooks up to your USB port in your computer, a car charger, a wall charger, both of which you have to share the same cord, a portable battery case / charger and a portable case. I received the batteries and chargers with the cartridges and they said the portable battery case/charger and other portable case is on backorder and couldn't give me a date I would get it. It took them 2 weeks to even send the first part of the order so I told them It looks like that they were on backorder too. I am under the impression that they don't have a full understanding that when someone buys something off the internet they want them to ship it out immediately. So I got my order and they screwed it up. I asked for ALL manual batteries which have a push button on them that prime the cartridge. They sent me one manual and two standard batteries. Getting to try both, I would not even consider getting the standard battery unless you want to suck two times on it every time before you get a hit on the third suck. When you suck on the standard batteries it activates the heating element and it takes a couple sucks to get it going. With the manual you press the button for a couple seconds and then suck. The manual will give you an excellent hit. Lots of vapor. If you're not getting strong enough of a hit all you have to do is push the button longer. Being able to quit smoking and change to these e-cigs, it helps greatly if you can get a good hit. I couldn't recommend the manual batteries more. Great product even though their customer service sucks. They call their cartridges cartomizers. Very cheap cost per pack (cartomizer) filling your own. And the cartomizer can be reused a few times. I would recommend the batteries (end part of the e-cig) from V2 because they are higher voltage than others. Ohh, and by the way, I contacted V2 about them screwing up my order giving me 2 standard batteries and they had me send them back with a return form and gave me a 0 credit towards another purchase, and I had to pay the shipping back to them which was a couple bucks. I would say that overall this is a great product ONLY if you get the manual batteries and you couldn't get a better hit with them. The only reason they get 4 stars from me is because their customer service is piss poor just as other people here have said.
---