Vaporesso PodStick Pod Kit – Slim and Elegant POD
We continue to get acquainted with the new AIO devices. Vaporesso company took advantage of three starter kits at once. Therefore, so as not to accumulate debts, I propose to start with the latest news in chronology. The manufacturer's experience in these matters is quite decent, so we expect something really worthy of attention.
Vaporesso PodStick Pod Kit

Dimensions: 111 x 22 x 18mm
Weight: unknown
Case material: aluminum + plastic
Power: built-in 900mAh
Chipset: OMNI BOARD MINI
Cartridge capacity: 2ml
Evaporator resistance: 0.6 / 1.3Ω Operation
mode: POWER
Protection:from low / high resistance, from overheating, from short circuit, from overcharge / overdischarge
Connector type: magnetic
Screen / diagonal: no
Micro-USB port / charging: yes, charging current 1A
Color: see photo below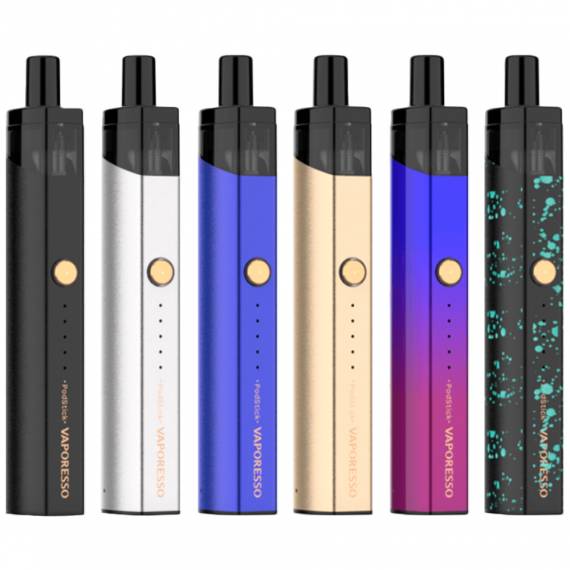 Options
– PodStick mod
– replaceable cartridge 2pcs 0.6 / 1.3Ω (one pre-installed)
– bottle for liquid
– USB cable
– user manual
– warranty card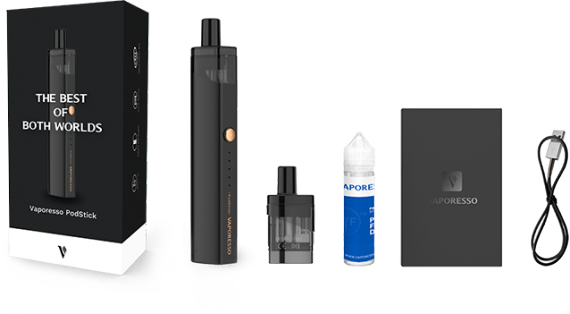 Our guest today looks a little extraordinary. Yes, in fact it is a vape stick, but its profile is very peculiar. The manufacturer's designers are not afraid to experiment in this direction, and at the exit we have at least something memorable profile. Dimensions are not to say that they are small, but the future owner is unlikely to be able to count on stealth.

The color scheme is quite decent – in addition to traditional colors, there are also "funny ones".
Replaceable cartridge of standard capacity. He plans to refuel from above – the hole for these purposes is not to say that it is large, and the duplicate brother is nowhere to be seen. Sliding lid – it is quite convenient.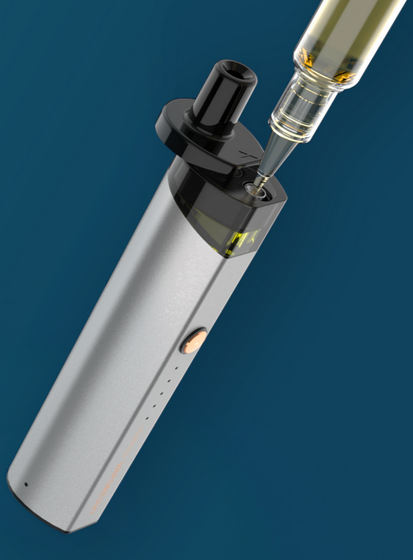 Evaporators, as I understand it, are built-in, we have two types of replaceable cartridges. The first is executed on a grid and is designed for dtl, the other is normal – it is designed for mtl. However, adjustments to blowing, apparently, is not provided.

The main body fits the average battery capacity, however, it will charge quite quickly – a little less than an hour. The causal connector developers placed on the bottom of the device.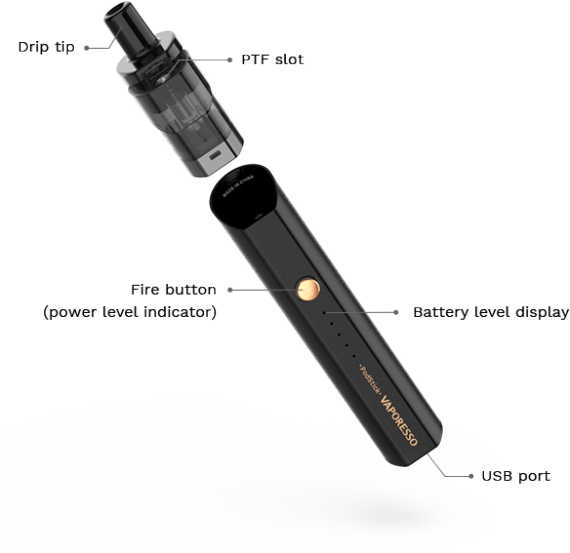 On the front side, a small fire button has settled, which is surrounded by an LED indicator. The latter will signal one of the three selected output power modes.

There is also a second – vertical – LED indicator. He is already responsible for displaying information regarding the remaining charge in the built-in battery.