V2 having a Vapor Couture sale! For the first time since its launch, they're giving you a chance to pick up your very own VC Starter Kit at a discount. Save 20% when you purchase batteries, cartridges, starter kits and even accessories. The sale will begin on Tuesday, August 21st and ends on Wednesday, August 22nd at midnight – don't forget to mark your calendar! This is your opportunity to become part of their growing Vapor Couture community at a fraction of the price.
VC Essentials Kit comes with two batteries in your choice of color, two 5-packs of Flavor Cartridges (customizable in both color and flavor), one VC Wall Charger and one Mini Smart Charger. Normally priced at $99.95, this elegant kit can be yours for only $79.96.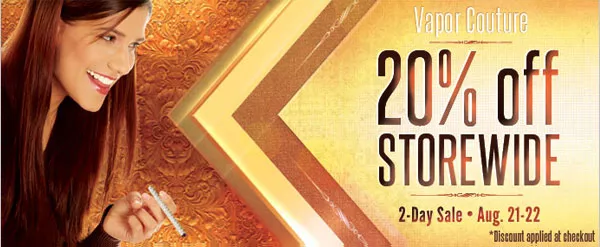 If you've already purchased your Vapor Couture Starter Kit, it's a great time to sample some new cartridge flavors or colors and see which taste and style you like best. With 20% discount, VC cartridge 5-packs are just 1.96.
So, head on over to VaporCouture.com and put together your wish list. Place your order during our first ever, two day sale and save 20%!
Discount will be applied upon checkout.