Syiko FD pod system – now we decided to present an instance easier
We pass the damn dozen – today is the thirteenth day of our non-stop marathon "not a day without AIO". As you can see, we go smoothly, do not stumble – manufacturers favor.
Today I bring to your attention a simple all-in-one set that has recently come out of the pen of a newcomer to the vape market – Syiko. As you remember, they started with very advanced devices, which, among other things, were equipped with a full-fledged display. But I hasten to upset you, but rather to please you all the same – this novelty has not been taken into account by this.
Syiko FD pod system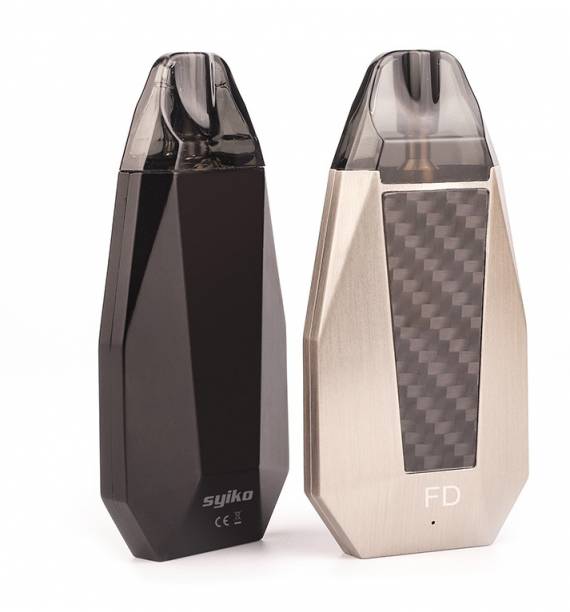 Dimensions: 77 x 37 x 14mm
Weight: unknown
Case material: zinc alloy (probably) + plastic
Power: built-in 450mAh
Cartridge capacity: 2ml
Evaporator resistance: 1.2Ω
Output power: 10W
Voltage range: 3.6V
Operating mode: POWER
Protection: against low / high resistance, from overheating, from short circuit, from overcharge / overdischarge
Connector type: magnetic
Screen / diagonal: no
Micro-USB port / charge: yes, a full charge cycle 45 minutes
Color: see photo below

Options
– FD mod
– replaceable cartridge 2pcs (one preinstalled)
– USB cable
– user manual
– warranty card
The exterior of our guest is the most ordinary, it is still possible to recognize him in a huge mass of offers. However, you can easily confuse it with similarly shaped devices. For the decor here, the plastic insert is responsible, which has taken center stage in the device.

Dimensions are relatively compact, therefore ergonomics will be expectedly normal.

From the start, developers offer only four design options, but their social networks treacherously blabbered about additional copies.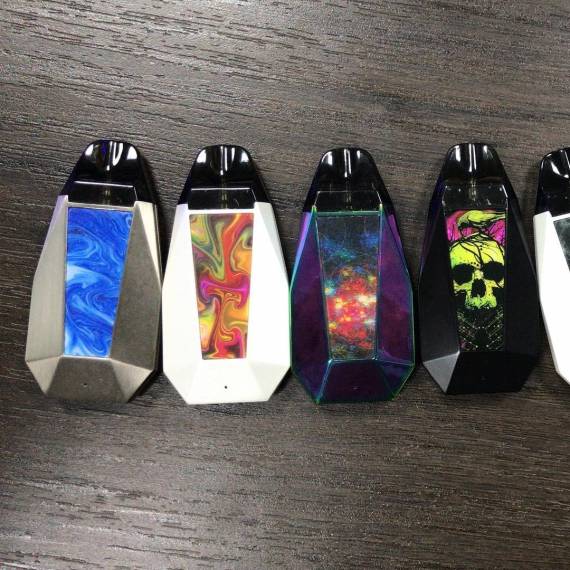 A replaceable cartridge of standard capacity, it will be refilled on the side, for this it will still need to be separated from the "sticky" magnetic connector.

Built-in ceramic evaporator. The resistance is "good", it is designed for liquids with a high nicotine content.

The main body, by the way, metal, hides in its bowels a built-in battery of small capacity. However, there is good news – you won't have to charge it for a long time. The causal connector is hiding from prying eyes at the bottom of the device.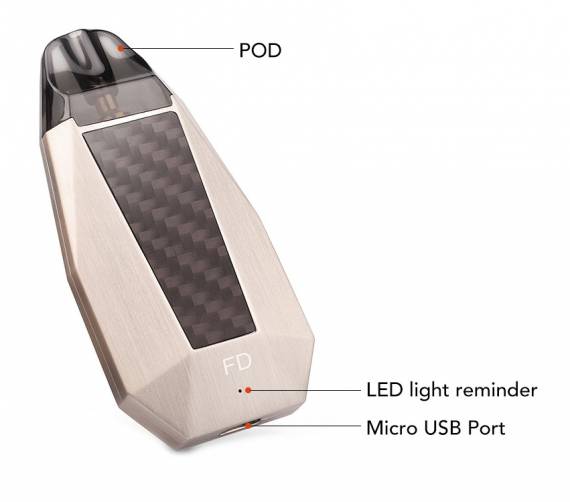 There is no fire button – AIO is activated by tightening. A small LED indicator lonely pressed against the base of the device, from there it blinks to you that the battery is running out.

The price is still unknown, because the release took place just the other day.